Overland Snaper Server DX1/OV-NAS201001
---
---
Share this product:
Overland Snaper Server DX1/OV-NAS201001.
SnapServer® DX is the first data storage that you don't have to provision. At the core of this revolution is DynamicRAIDTM, a standards-based technology that gives you the ability to automatically expand storage pools and storage volumes independently, optimize your data protection levels and increase capacity with zero downtime. DynamicRAID provides the flexibility you need to manage your storage infrastructure without manual intervention, so that your business can grow without interruption. SnapServer DX is the simplest unified NAS and iSCSI SAN storage for modern business applications – from virtualized server and Microsoft Exchange environments to backup and storage consolidation. Built on the proven GuardianOSTM platform with integrated features like snapshots and replication, SnapServer DX lets any business run its storage like an enterprise, at one-tenth the cost. It's storage as it should be.
DynamicRAID – The Future of Storage Provisioning is No Provisioning:
With DynamicRAID, SnapServer DX RAID arrays are optimized and maintained automatically as drives are added, giving you the best redundancy and capacities available in the market. Easily add drives of larger capacities and integrate them within existing storage pools without sacrificing valuable new space. The DynamicRAID features apply equally to both file sharing and iSCSI volumes created on the SnapServer, making it ideal for both file level and block level access. With Dynamic Volumes improve storage utilization efficiency by making unallocated space available on demand for other applications. Volumes can be resized dynamically at any time, or set without limits. Lower your cost overhead by distributing all volumes across the available storage pool and adapt quickly to changing needs of your storage environment.
Snap Enterprise Data Replicator – Protect the Worlds Most Important Data...Yours:
Traditional backup cannot always protect against disaster; ideally data must be moved off-site, and must be instantly available to any global access point. Snap Enterprise Data ReplicatorTM (Snap EDR) is a high performance data replication solution with the industry's most comprehensive set of data management and security-capable disaster recovery tools. With flexible data movement options, Snap EDR can replicate data in small offices or large distributed environments. Send files between two SnapServers with the simple replication tool; aggregate files from multiple servers at remote locations back to a corporate datacenter; or distribute files from headquarters to field offices all over the world. With tools such as byte-level differencing, bandwidth throttling, compression, and encryption, Snap EDR will automate your data protection efficiently and securely, and make sure your data is readily available when you need it most.
Expansion – to 280 Terabytes and Beyond:
SnapServer DX is the only rack-mount NAS unit in its class that expands to greater than 280TBs. Expand beyond any SnapServer DX system with the SnapExpansion chassis; a serial attached SCSI expansion chassis that allows you to add additional drive capacity to keep up with the most dynamic storage environments. Start with as few as two hard drives and seamlessly expand your storage pool as your business grows by adding up to an additional 94 SAS or SATA hard drives. You no longer have to purchase more storage than you need at any given time with the powerful combination of SnapServer DX and SnapExpansion.
Advanced Security – Intelligence Matters:
The SnapServer DX is powered by the industry proven GuardianOS, with cross-platform user access and built in advanced
security. The SnapServer can provide local security for small infrastructures or join larger networks that include complex security implementations. In a Windows environment, the SnapServer can join an Active Directory Domain and automatically stay synchronized with the full set of 30 distinct AD permission attributes. For UNIX and Linux security, the SnapServer GuardianOS supports Network Information Services to integrate within your existing NIS user and group database. Finally, for mixed environments, the SnapServer allows you to maintain consistent permissions for users with multiple system types with Windows-to-UNIX ID Mapping. With the Home Directories feature, the SnapServer can automatically create secure folders for individual user logging in. The SnapServer DX will fit into any environment and constantly adapt to complex and changing security requirements.
Unified Storage – Freedom of Choice:
Have storage your way with the SnapServer DX by not limiting yourself to individual storage protocols. Connect to your SnapServer with any client type and share files across Windows, Linux, UNIX and Macintosh platforms. Along with file services, the SnapServer iSCSI feature enables you to easily consolidate your block level storage across multiple servers in localized, distributed and virtualized environments. Store both block and file data concurrently on the SnapServer DX with and manage under a single, flexible interface. Simplify your IT infrastructure by consolidating your storage infrastructure into a single SnapServer to handle all of your dynamic business storage requirements.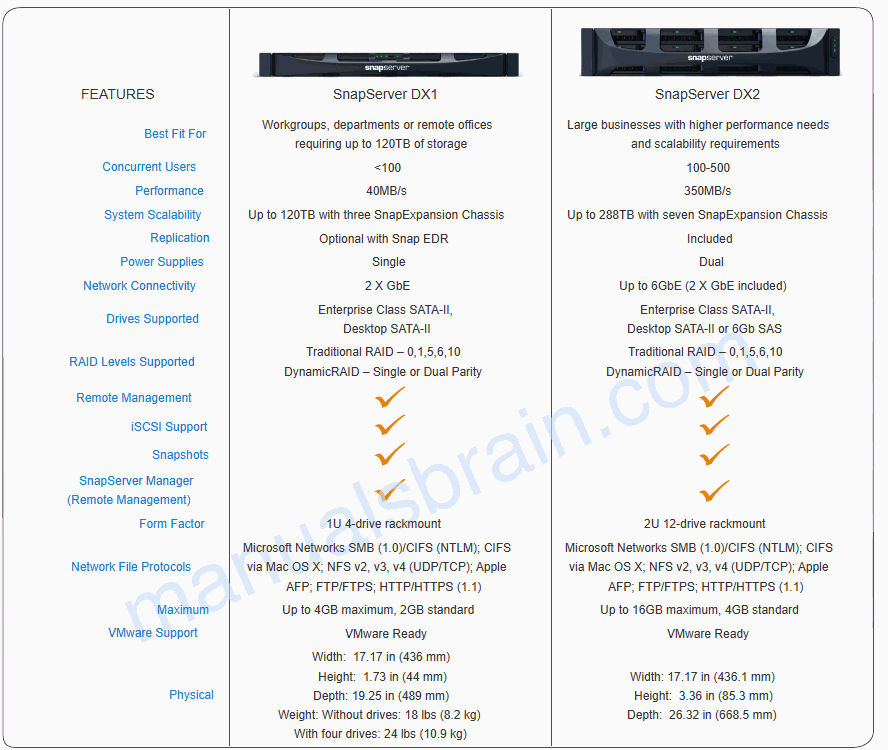 This is a preview of the recently viewed products by the user.
Once the user has seen at least one product this snippet will be visible.


Recently viewed Products